Looking for brilliant PC component deals on Black Friday 2018? Here's how to make sure you get a bargain.
With Black Friday 2018 just around the corner, now is the perfect time to think about upgrading your PC, and ensuring you're ready for the best Black Friday component deals when the big day arrives.
It seems like every year online retailers are looking to start their Black Friday deals earlier and earlier in a bid to get more custom, so it's never too soon to start thinking about what you need to do to ensure you get the best deals.
In this article we'll look at what kind of PC component Black Friday deals you can expect this year, along with what discounts we saw last year.
If you don't want to build your own PC, and would rather buy a ready-made system, check out our guide on Black Friday laptop deals, which explains how to get the best model for the best price.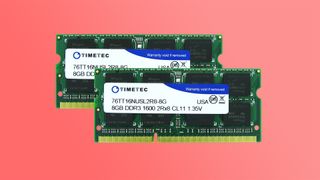 Black Friday PC components deals: what you need to know
On previous Black Fridays, a number of retailers cut the prices of their PC components, most noticeably Amazon and eBay. Specialist component websites like Overclockers, Scan and Ebuyer also offer some brilliant component deals on Black Friday.
This makes Black Friday possibly the best time to buy components to upgrade your PCs. Not only do websites cut their prices, but because they are online stores, you can quickly compare prices and specifications from a range of stores easily, helping you make the best purchasing decisions.
Also, it's worth noting that big component brands like Intel, AMD and Nvidia have all recently released new generations of their components, which means last year's models could see more than decent Black Friday deals come November.
However, buying PC components can be more complex than other products, especially in a fast-paced and hectic day like Black Friday, where the pressure is on to find the best deals. So, before the day itself, do a bit of research into what components you're after, and make sure you know what is compatible with your setup.
The best Black Friday PC component deals from previous years
Bitcoin.
While cryptocurrency mining is still popular, it isn't as crazy as last year, and with graphics card manufacturers increasing production to meet demand, there shouldn't be any GPU shortages. The good news is that this means there are more likely to be deals!
As we mentioned earlier, Nvidia recently launched its newest generation of graphics cards, the RTX 2080 Ti, RTX 2080 and RTX 2070. While it's highly unlikely that these new GPUs will get discounts on Black Friday, it does mean we'll likely see the older generation – which are still very impressive graphics cards – get price cuts.
So, if you fancy a GTX 1080, GTX 1080 Ti, GTX 1070 or GTX 1060, it may be worth holding off until Black Friday to see what kind of deals you can get.
It's the same for processor deals, at least for AMD. It's second generation Ryzen and Threadripper CPUs are now out, which means we may see some great Black Friday deals on last year's offerings.
As for Intel, things are a little bit different. While it has recently launched its 9th generation of Core processors, it has also experienced stock shortages due to its 14nm process. This might mean that older Intel CPUs are harder to get hold of, so we may not see quite as many Black Friday deals for them. Let's hope we're wrong on that count.
Previous Black Fridays have also brought price cuts to other components such as motherboards, RAM, hard drives and PC cases, and we expect Black Friday 2018 to be no different.
Stick with TechRadar to get the best Black Friday deals
On Black Friday (and Cyber Monday), the day itself can be a bit overwhelming as so many online retailers vie for your custom. While this means there are very competitive deals to be had, it also unfortunately means there are some deals that aren't as good as they first appear.
That's why you should visit TechRadar to ensure you get the best Black Friday deals. We keep an eye on all of the top retailer's Black Friday and Cyber Monday PC component deals, and highlight the very best savings on the best components and hardware.
For up to the minute info, breaking deals and the biggest savings as soon as we know about them, make sure you follow TR Deals on Twitter so you don't miss out on any incredibly Black Friday component deals.
Black Friday 2018 and Cyber Monday 2018: when, why and where to get the best deals